It's been over a week since I lost posted. By my standards, that has been an absurdly long time.

Um, whoops?

Anyway, had a rather busy week. Weekdays were busy with placementage and teaching and other whatnots that contributed to far too many early mornings.

On Friday evening, it was FOUL Silly Night. Which meant pizza, trivia (My team lost), a rather long and convoluted series of the hat game, and random silliness. And then I went back to
de_chel's place with a few others for some drinks and gay Shakespearean poetry on the fridge. As one does.

And yesterday I went to Manifest. Which was exceedingly... Manifest. But good fun.

I think my experience of it can be summed up with the following picture: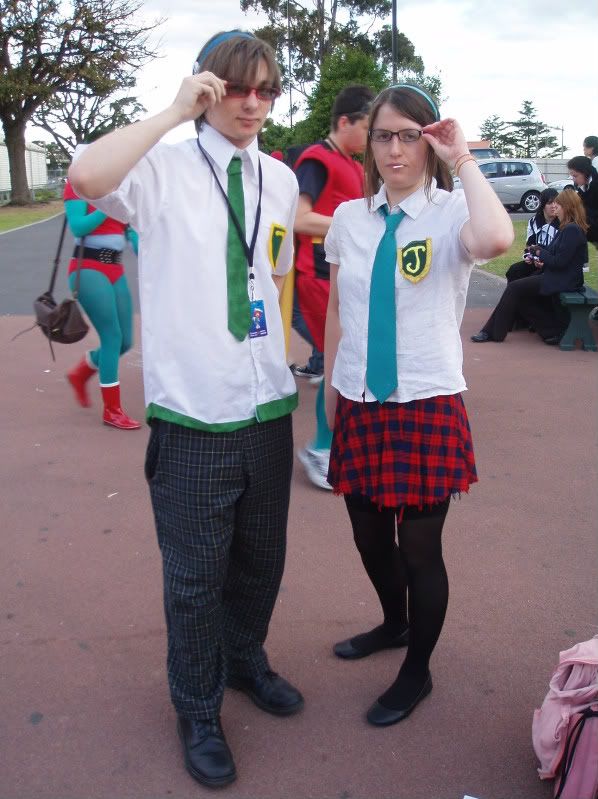 So, I'm the female one.


Yeah, I was cosplaying as Mari Makinami from Rebuild of Evangelion

I met up with
isarae almost entirely by accident - she was as Luluko, and at least one of the friends she was with was a Suzako - so I spent a significant amount of the day wandering around with them, as we looked through the Trader's Hall or at cosplayers. Or when they went to Anime Idol to go see one of their friends perform. They had great costumes, I had to say (Though there were some really awesome ones I saw around. I was highly impressed at the Mawaru Penguindrum group - complete with plushy penguins - already.)

Amongst other sites, we saw one of those SEELE communication slab things... caramelldansen. Now that will stick with you.

And after that we went to actually buy things from the hall - I ended up with some of the Chii's Sweet Home manga (No volume 5 left, alas), a squishy stress relief Adipose, some pocky, a couple of phone charms and some jewellery.

Anyway, right towards the end after
isarae and her friends left was when I ran into James up there in is male!Mari cosplay. He ended up being in a group of people doing genderswapped Evangelion cosplay (...and a Zero) who had come over from Adelaide for Manifest.

I ended up having dinner with them, heading back to their hotel room for drinks, and then some of us went up to Mana Bar for more drinks (It was small and crowded; I don't recommend Saturday nights there). And then we went back to the hotel room for more drinks.

...Yeah, that was a lot of drinks. Though it was less the number of drinks and more the density. AB shots of Absinthe and Bacardi, oh my. Hence why I didn't do very much at all today.

A couple of the guys were nice enough to walk me to my tram stop, though. And then texted me this morning to see if I'd survived.

And that was my weekend. Or at least the parts of it I remember.